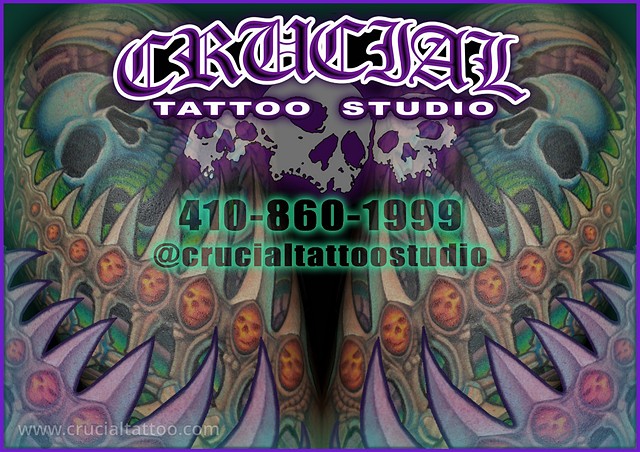 CRUCIAL TATTOO STUDIO.... Custom Tattoos!
One of the best Tattoo shops Maryland has to offer!
Only a short drive from Ocean City Maryland
Salisbury, Maryland
410-860-1999
OPEN DAILY
12noon - 8pm
CLOSED SUNDAY and MONDAY
WALK INS are welcome!
and fit in to our appointment schedule on a case by case basis.
Availability for walk in tattoos changes daily, so please call ahead to check our scheduling options. 410-860-1999
AND please use the link below to submit your idea so our staff can give you the best advice on our soonest availability.


Please click on the CONSULTATION FORM link to begin our online appointment process.
Once you submit the form, your information will be passed on to an artist.
Check our facebook page for more current information on events, shop closings and holidays!
Be sure to follow us on facebook and instagram to stay up with our artist's convention schedule and all other happenings here at Crucial Tattoo Studio!
GIFT CARDS AVAILABLE!
BODY PIERCING is NOT AVAILABLE at this time
TO SEE EXAMPLES OF OUR TATTOO WORK
click the ARTIST Portfolios tab in the upper left of this page, and choose an artist from the drop down menu.
OR, use these links below:
Heather's Tattoo Portfolio



*ALL TATTOO APPOINTMENTS ARE SET UP BY THE SHOP BY OUR SHOP STAFF AT 410-860-1999 Speaking with an artist does not guarantee you a spot at the shop unless you follow through with one of our counter persons up front.
ALL TATTOO APPOINTMENTS REQUIRE A DEPOSIT AND PAPERWORK TO BE OFFICIAL, SIGNED OFF BY OUR FRONT STAFF TO BE CONFIRMED*
Please click on the CONSULTATION FORM link to begin our online appointment process.
Once you submit the form, your information will be passed on to an artist.
NOW OFFERING TATTOO REMOVAL!
To make for an easier cover up tattoo, or to just do away with an unwanted piece, Tatt2Away removal is here at Crucial Tattoo Studio!
click here for more information
CRUCIAL TATTOO STUDIO officially opened on Jan 1st, 2007, and are proud to have some of Maryland's best tattoo artists here with us, serving DelMarVa and surrounding areas, with clients from all over the country!
We are located in "Spring Hill Plaza" on business route 50 on the west side of Salisbury, Maryland. We are about 28 miles west of Ocean City Maryland, and about a two hour drive from Washington DC, Baltimore, and Philadelphia.
The former location and crew of Artistic Creations Tattoo Studio, first formed Crucial Tattoo Studio, along with some great newer additions to the staff, and select artists, with many different and unique art styles between them. Our award winning team of artists have a combined professional experience of over 35 years within the Tattoo Industry, and have established themselves in Salisbury, Maryland by consistently performing some of the best tattoos available! The growing number of our regular clients from well outside of our local area, shows this fact has not gone unnoticed, and we greatly appreciate all of our clients who are willing to travel from many states away for quality tattoos!
A big Thank You! goes out to all of our loyal clients and fans over the many years for your continued support!
Check out the Artist Portfolios here on this site to see the many styles of tattoo work we have to offer!
We are NOT accepting walk ins for tattoos at this time. All Tattoos are BY APPOINTMENT ONLY. Please use the artist email links on this website to get up with the artist of your choice, or contact the shop with any questions you may have about getting tattooed.
Pricing on tattoos is determined by the artist performing the procedure, and will require some detailed information to develop a quote. It is best to contact the artist of your choice, by using the email links on this site, OR by calling the shop to set up a consultation.
Scheduling Appointments is preferred, and is best done between artist and client directly. You can contact the Artist of your choice by calling the shop during regular business hours, OR by sending an email to them directly by using the addresses below.
Please Remember that our artists are very sought after for their tattoo work, and may have many emails to go through in any given week, so please be patient for a response. If you want to get on the schedule more quickly, you can always call the shop and ask for the soonest availability on the calender!


Please call ahead to ensure availability!
Crucial Tattoo Studio
410-860-1999


We may have guest artists in from time to time, and we will update our Instagram and Facebook accounts with those announcements, so please be sure to follow us there for all current updates!


All of the art work featured on this site is custom, unless otherwise noted. Out of respect for our clients and artists, PLEASE DO NOT COPY OR REPRODUCE ANY OF THE IMAGES found here! Thank You!